The career of a Composer today can be filled with uncertainty and risk and fear. It's a niche profession that most of your friends and family don't understand.
Yet, it's your biggest dream in life. You can feel it deep down. This is your one purpose, why you are here. You want to prove to them, to the world, to yourself that you are destined to succeed at this.
You just need to be taught what to do to turn your inner passion into a successful full-time career.
How much in life would you be willing to risk to achieve that amazing goal, right now?
What is a successful thriving lifetime career of your dreams worth to you?
You know what you need to make it happen … jobs! Money from jobs. Credits to get more jobs. Jobs to accelerate and advance your career goals. Now, for the first time ever, in this one course, you can learn how to get it all…
"This Masterclass is the best I have ever seen! Everything I ever thought on how to become a successful film composer went out of the window! Whether you live in LA or not, [this course] breaks down in full detail on how to become successful regardless where we are located and how it's a proven method which the great composers will not share with you. I highly recommend everyone who wants a career as a Film/TV or Videogame composer to take this course." –

Vic J.
You will learn how to get more work than you ever thought possible. Learn a statistically proven method for consistently getting gigs. Your peers will become envious of your new "winning streak".
Isn't it time you made the most important investment in yourself and your career? What use is everything you know, if you can't get a job to use it all on? Getting work is the FOUNDATION of your career.
This is the most important course you will ever take in your scoring career. Everything you thought about job hunting is about to go out the window! Get ready for a big change!
"One of the best investments I've ever made! Evan is an excellent teacher and this is the perfect Course! One of the turning points in my career as a composer." –

Luis L.
Where is all the work at around the World? Learn an incredibly powerful organizing system to turn finding work into a science. Is there a best time to contact people?
How long does it take to get any given Gig? What could networking and building relationships get you?
What should you say to people when you contact them? Learn how to instantly heat up a lead, forming an instant bond.
Find out where the real money is and how to focus on just those opportunities!
How Is This A Proven Method?
Production Timelines (Film, TV, Games)
Building Relationships & Networking
The "Grass Roots" Method
Lead Sources Method
Who To Talk To
What To Say
The Best Lead Sources*
International and Local Area Based Leads
How To Make Phone Calls
Emails
Building Instant Rapport
Lead Management
The Importance of Clout
What Is The "Long Game"?
Lead Sources Hot List PDF
This course includes an optional Exclusive Special Offer (*additional cost) available to Course Registrants only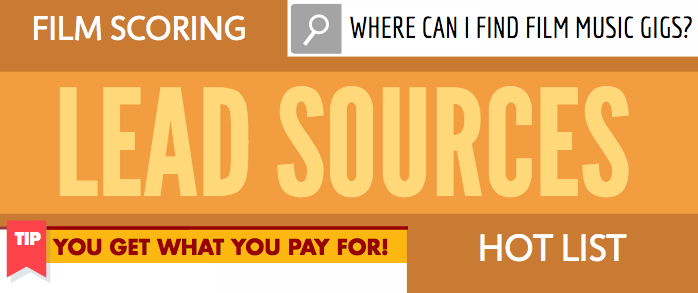 WHAT TO EXPECT IN THIS COURSE
This is a self-directed course and can be completed in one day with your undivided attention.